animal action magazine
Our magazine for animal-mad kids.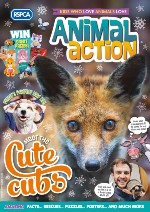 Animal action is bursting with animals, competitions, puzzles, and fun! Plus we like to show off some of your own photos and drawings. Read some heart-warming animal rescues and rehoming stories too.

Subscribe to our fantastic Animal action magazine and you'll receive one of our brilliant magazines through your door four times a year.

We know you'll love this exciting magazine so why not ask a grown up to create a subscription for you today!

Don't forget to visit our blog, Animal Action Park, for more information.