Single-use plastics
Single-use relates to items that are only used once before they're thrown away. We may only use it for a very brief period of time, but once discarded in the wrong place it's likely to be there for years - single-use plastics don't break down they just break up.
That's why we're asking you to actively think about the items you use and to pledge your support to move away from single-use plastics for the sake of our environment and the animals living within it.
Taking a few minutes to think about what we're going to do with that piece of plastic or item and dispose of it correctly will reduce any chance of it killing or injuring our wildlife if it ends up in our environment. A better solution is finding a reusable alternative, which will save the environment and money.
Single-use plastics are everywhere
Single-use plastic is all around us in our homes from drinks bottles, household products, soaps, shower gels, shampoos and many more through to the plastics that still surround our shopping and online orders.
Whilst there are alternatives to plastics - it's worth mentioning that the alternatives that may immediately spring to mind - such as aluminum and glass - could be seen as the perfect swap, but each has its own negative effects on the environment.
Ingestion of plastics can mean the ingestion of toxic chemicals as well and of course, they can remain in our environment for a very long time.
Plastic pollution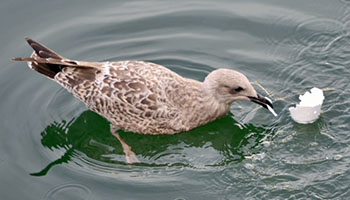 In a world of convenience, we've become dependent on plastic but we can no longer turn a blind eye to the impact it's having on our planet. Whether its mass production or the product itself - a fork, a drink stirrer or a straw - these seemingly small objects add up to a big problem for the environment and the animals who live around us. Devastatingly, plastic can have a huge negative impact and unpleasant unintended consequences for our vulnerable environment and the animals that live there.
Plastic pollution is very real and dreadfully harmful. This includes single-use plastics, and whilst they may be individually small, their impacts are terrible and long-lasting; plastic is no longer fantastic.
Banning single-use plastics
Plastics feature in our everyday lives and plastic pollution affects the welfare of the animals around us. Now's our chance to have our voices heard so that together, we can all contribute to making a difference in our plastic use.
Globally Governments are listening, add your voice
In December, 164 countries agreed that plastics need to be tackled on a global basis through cooperation and sharing best practices. The Government in England is now moving to ban the supply of single-use plastics such as plates, cutlery and drink containers. We're therefore asking you to stand with us and pledge your support to change your behaviour and reduce the number of single-use plastics and items you use.
The Government's proposal is most certainly a positive step to reducing single-use plastic consumption, but according to the Wildlife and Countryside Link, there are still risks causing unintended environmental damage unless the power is extended to cover other single-use items.
Changing our behaviours
We all make regular trips to the shops or use online ordering for home deliveries. Many of us are fortunate to be able to recycle much of the packaging from our homes, but this isn't enough. We need a comprehensive plan to ban the supply of single-use plastic and polystyrene but we also need to do our bit as individuals and commit to changing our own behaviour. Without this, animals and our fragile environment will continue to suffer.
Preserving our natural surroundings
Many of us can take pleasure from enjoying the nature and wildlife around us wherever we may live. From swans at a local lake to bumblebees outside the window, nature and wildlife are often just a few steps away - if that!
So if we're responsible and really care about wildlife and the environment, why do we still see single-use plastics strewn across our beautiful countryside? There are many online articles discussing the sheer damage this and microplastics can do to our helpless marine wildlife, and reports of excellent efforts from other organisations to clean up our beaches, with much of this work being undertaken by priceless volunteers.
Plastics have severe consequences on our wildlife
Many innocent marine animals including cetaceans, turtles and seabirds will ingest or become entangled in plastic causing horrific injuries and unimaginable distress.
Seal with a plastic ring stuck around her neck
Mrs Vicar is a seal rescued from Horsey Beach in Norfolk with a plastic ring cutting into her neck and who underwent months of rehabilitation with us.
Mrs Vicar had spent more than two years with the plastic ring cutting into her before the seal rescue team, part of Friends of Horsey Seals, were finally able to catch her. She was then rushed to our East Winch Wildlife Centre for urgent treatment.
7cm deep wound around her neck
The adult grey seal had a rigid 2.5cm white plastic ring deeply embedded in her neck. According to sightings by members of the public, the ring has been caught around her neck for around two and a half years. Seals are sadly unable to get rings off their heads once they're trapped in them, so as Mrs Vicar grew bigger it began to cut deeper into her neck and caused a 7cm deep wound, which had also become infected. Vets at East Winch removed the ring from her neck and then gave her antibiotics, pain relief and salt baths in order to heal the horrific wound.
At the start of her treatment, staff at the centre were unsure if she'd be able to make it because her wound was so severe and infected. When the ring was removed it then meant that her body released a huge swell of dangerous toxins, which she then had to fight off. So for the first few days, she didn't really move or show any signs of improvement.
Thankfully though, each day there was a small sign of improvement and she started eating and her salt baths began to work on the infected wound.
Mrs Vicar spent three months in total at East Winch before finally being released back into the wild in July 2021.
Dispose of plastics responsibly
We're often the first to be contacted when helpless animals, such as birds, are seen in serious distress. We're called to terrible incidents which are caused by plastics discarded irresponsibly for animals to find. Animals can be inquisitive and, of course, are naturally looking for food. So heartbreakingly, if they climb inside a discarded plastic bag, they can suffocate or even attempt to eat them and choke, which, devastatingly, has led to animals dying.
We can all help to prevent these tragedies. Simply tying a knot in a bag and recycling it can stop this from happening. Our animal rescue officers have come across water birds with plastic can holders entangled around their beaks making it virtually impossible to eat. They've even seen hedgehogs getting caught up in these.
Heartbreakingly, so many years on, we're still being called out to incidents like this today. Again, this can easily be avoided if we always cut the hoops before popping them into the recycling bin.
It's not just wildlife who are endangered, faultless grazing farm livestock such as sheep, goats and cattle can also ingest plastic discarded in their fields which can result in serious illness and sadly even death.
Reduce your use of single-use plastics
Unfortunately, too many people still love the convenience of single-use items and plastics - which continue to be widely used. However, there are some fantastic alternatives available such as reusable:
water bottles
cutlery
food containers
straws
and more...
A bit of thought when planning your day means you can bring reusable items from home rather than grabbing a convenient single-use item when out and about. Just by taking the time to think about what we're buying and considering the serious and real consequences of our actions, together we can make a real difference to our delicate environment and reduce unnecessary suffering to animals.
In the meantime, while single-use plastics are still readily available and in advance of a ban don't forget to pledge your support to move away from using single-use plastic items and be the start of a change.