Our adoption process

Step 1 - Search Find a Pet

Step 2 - The application
Complete one of our easy to use application forms.
Step 3 - Matching you with an animal
If your application is successful, you will receive an email or phone call from the adoptions team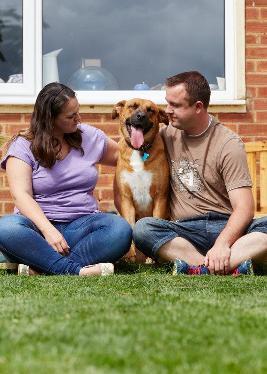 , normally within 5 working days. The adoption process will be explained and any questions you may have can be answered.
Step 4 - Adoption screening
The adoption screening checks will be completed via phone, video call and email. You will be asked to provide photos or a video of your home and will need a secure, private garden if you are adopting a dog.
Step 5 - Meetings
Meetings are by appointment only. Some cat, rabbit and small animal meetings are still completed virtually.
Step 6 - The paperwork
In an effort to reduce waste, we have successfully gone paper free with the exception of vaccination cards. The adoption documents will be sent by email and signed electronically. Adoption fees are payable by card.
Step 7 - Taking your new pet home
You will be able to collect your new pet, by appointment, either from the rehoming centre or foster care.
Step 8 - Post-adoption support
Our adoptions team are on hand to provide you with support after the adoption and you will be given details of how to contact them. If necessary, we may arrange a post-adoption home visit.
The health and safety of our staff and volunteers are of utmost importance to us. Unfortunately, we can't adopt animals to homes where a member of the household is self-isolating, showing symptoms of or has a confirmed case of Covid-19.
Please be aware that we receive a high volume of applications. This is great for our animals but can lead to disappointment for people who are unsuccessful. Please don't contact us to check on the status of your application. If you have been fortunate and matched with an animal, we will normally be in touch within 5 working days. Unfortunately, it is not possible to contact everyone so if you don't hear from us in this time frame, you have likely been unsuccessful on this occasion.