Find more pets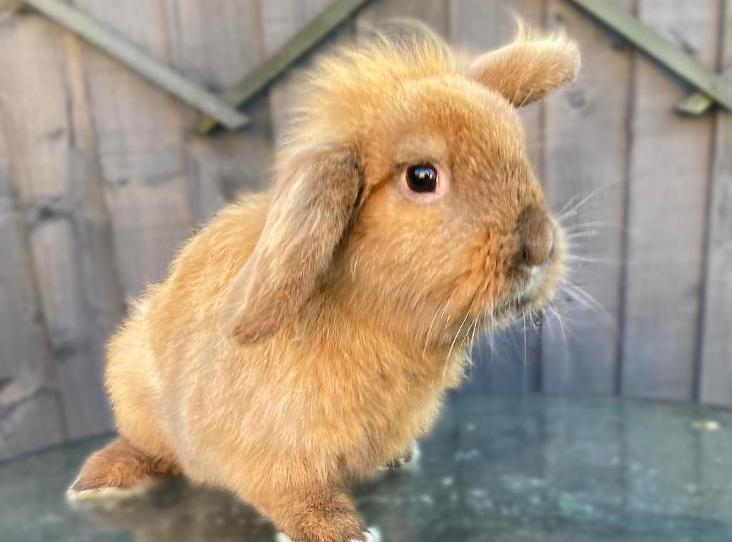 BOBBITT
Add to my favourites

Remove from my favourites

About Me
| | |
| --- | --- |
| Breed: | Dwarf Lop |
| Colour: | Orange |
| Age: | 2 Years (approx) |
| Ref: | 10132 |
Handsome little Bobbitt was living in unsuitable conditions and was rescued by an inspector. He is around 2 years old.

Bobbitt is a shy rabbit who needs a loving owner who will take the time to build his confidence and help him feel safe. He is looking for a gentle and calm female bunny to bond with and keep him company. Bobbitt is in good health and has been neutered, vaccinated and microchipped.

Rabbits need access to large areas of space in order to exhibit typical behaviours. A pair of medium-sized rabbits must have constant, uninterrupted access to an area no smaller than 3 metres x 2 metres x 1 metre high to meet our minimum accommodation requirements.

Please complete our Online Rabbit Application Form <<here, to register your interest.
My personality
I may be able to live with a female rabbit

I'd be happy living indoors if you give me lots to do

I could live with children of secondary school age

I like to snooze
RABT
About Me
| | |
| --- | --- |
| Breed: | Dwarf Lop |
| Colour: | Orange |
| Age: | 2 Years (approx) |
| Ref: | 10132 |
Contact the centre or branch about me:
RSPCA Northamptonshire Branch
01604 881317
9am-5pm Mon-Fri (closed Sat & Sun)
Option 2 for Cats, Rabbits & Small Furries; Option 3 for Dogs
Interested in adopting me?
There's a lot to think about before taking on a pet. Read our rehoming page to find out more about adopting from the RSPCA.
For all adoption enquiries, we request an application form is completed before arranging a viewing, which is by appointment only.
Please read all the requirements of the animal you wish to adopt, these are in place to ensure the right match is made. We assess our animals carefully and will ensure that their needs are put first with any adoption.
As part of our adoption criteria, if you have any existing animals at home they must be vaccinated, microchipped and neutered.
The process
- Online application form
- Viewing of the animal (by appointment only)
- Reserve for 7 days maximum
- Virtual Home check (For all rented accommodation we will need to see a copy of your tenancy agreement or a permission letter)
- Adoption paperwork and collection
- Post-adoption home check (if applicable)
When collecting
Cats and small animals will require a suitable secure carrier for transportation. Dogs require a collar, lead and ID tag with your details on.