Overall Winner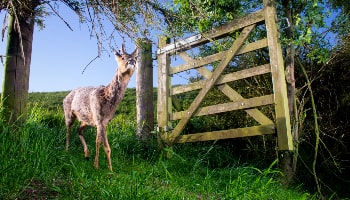 This category selects the best of the best. The judges choose just one photo from all the winners of the categories (including the Portfolio category) to take the top prize.
In 2020, our Overall Winner was Jake Kneale, with this beautiful image of a deer, called 'Mind Your Head'. The photograph won our Small World category (a category created for lockdown).
The prize
The overall winner of the Young Photographer Awards will receive:
A weekend photography break with award-winning wildlife photographer Danny Green's team at Natures Images.
A Young Photographer Award trophy.
All finalists will be invited to an awards ceremony in December.
The UK weekend photography break, 'Deer and Birds of Prey UK', with Natures Images will take place in the East Midlands in 2022. A place will be available for the winner plus an accompanying parent/guardian.
For more information about the prize and to see the itinerary, please visit the Natures Images website.
Make sure you read the full rules of entry before you enter!