GIVE THE GIFT OF SPONSORSHIP
Looking for a more meaningful gift? You're in the right place.
RSPCA Sponsorship is the perfect present for any animal lover. By sponsoring Dog Kennels or Cat Pods on behalf of someone else, you're helping to transform the lives of thousands of rescued animals.
Not only will RSPCA Sponsorship bring a smile to your friends and family, it'll also provide animals with a safe space to recover. So many of the dogs and cats we care for have suffered cruelty, neglect and abandonment. Sponsorship helps provide the expert rehabilitation, nourishing food and medical treatment they need. And it's not just a one off donation - your gift helps us go above and beyond to care for them, all year round.
What your gift can do
£6.50 a month
could pay for tasty food and fun toys.
£10 a month
could pay for cosy beds and blankets to keep animals warm.
£15 a month
could help rehabilitate animals through expert behavioural work.
£20 a month
could help provide round-the-clock care, specialist treatment and vital medicines.
The minimum monthly amount is £6.50 to sponsor Dog Kennels or Cat Pods and £13 to sponsor both Dog Kennels and Cat Pods.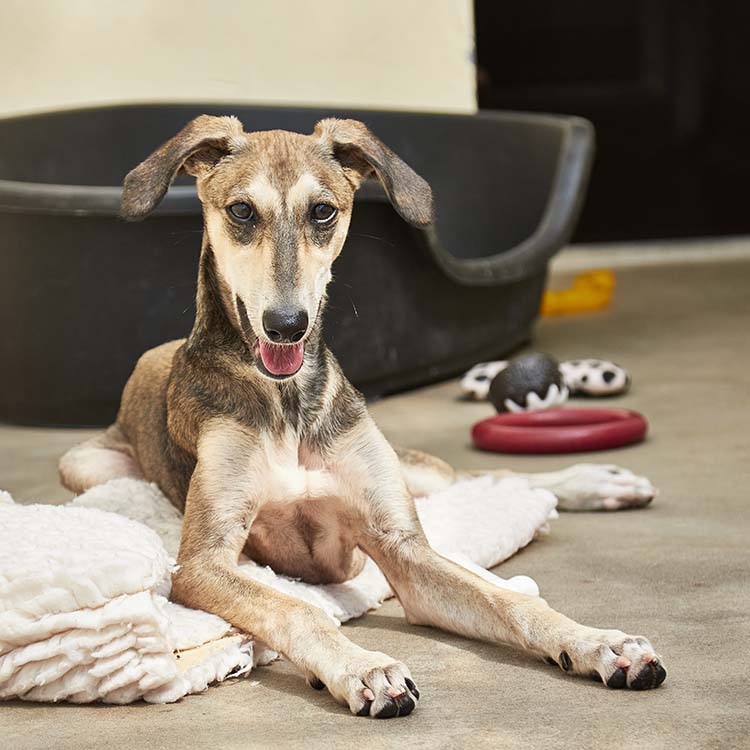 We took 2,149 dogs and 4,903 cats into our care in 2020
What does your gift include?
We'll send the lucky recipient of your gift:
A personalised gift certificate, to arrive by post on the date of your choice (restrictions apply).
A follow-up welcome pack including a letter, booklet and sticker, telling them all about Sponsorship.
A series of feelgood letters and postcards for the first six months, telling them about the animals they're helping.
Updates every quarter about the valuable work their gift is funding.
As an RSPCA Dog Kennels or Cat Pods Sponsor, your loved one will receive a gift certificate, followed by a welcome pack introducing them to our animal centres. Then we'll keep them informed by post with photos, letters and heartwarming stories about the difference their Sponsorship is making.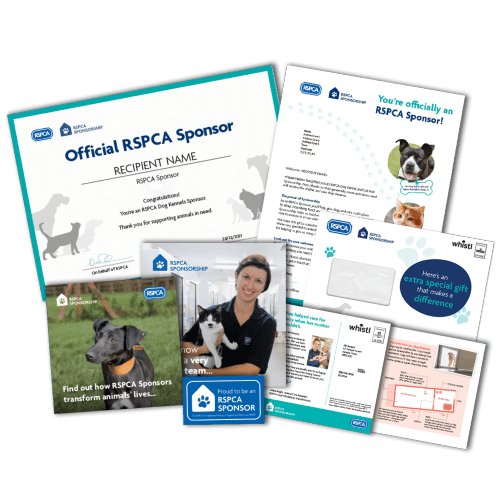 Don't worry, you can also print out or email your personalised gift certificate, to give on the day.
Is your friend or family member a...
...dog person?
Then
sponsor our Dog Kennels
on their behalf.
...cat person?
Then
sponsoring our Cat Pods
for them is ideal.
Can't decide?
That's OK. With our
Sponsor Both
option you don't have to!
The type of gift you choose will inform the type of updates they receive from us. But rest assured whichever you opt for, the funds go towards helping all the animals in our centres across England and Wales.
Why Sponsorship makes a great gift
It's a thoughtful present with a difference.

A unique gift to warm hearts and raise smiles.

Our Sponsorships are much loved by people who adore animals but might not have the space or time to look after one themselves. Our regular updates on all the animals they're helping are the next best thing to having pets of their own. And if they do have animals? Sponsorship is a way for them to extend that love and care even further.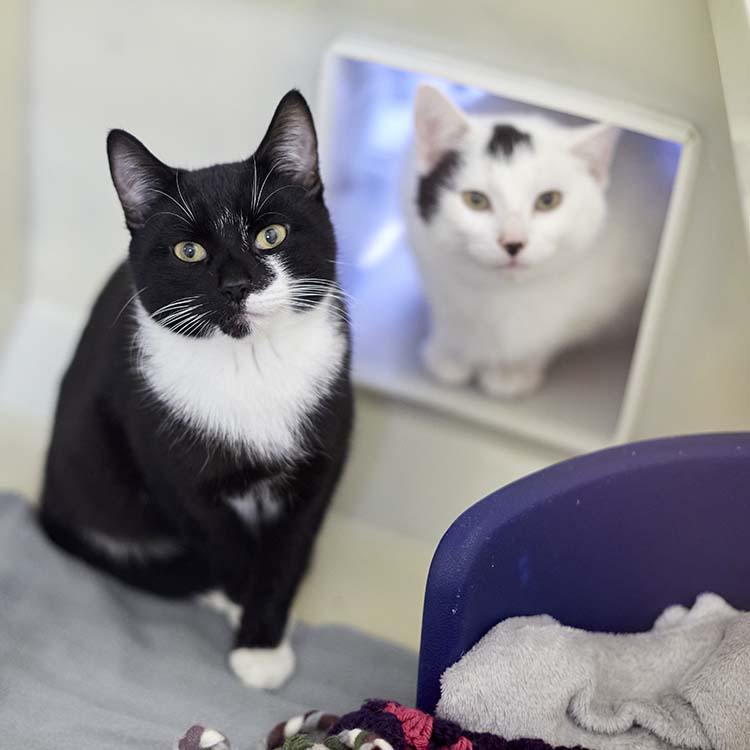 How it works
1. Decide if your recipient would like to sponsor our
Dog Kennels
,
Cat Pods
or
Sponsor Both
.
2. Fill in your details as the payee.
3. Fill in the recipient's details as the Sponsor.
4. We'll send their gift certificate by post on a date of your choosing.
5. You can download a gift certificate to print or email if you need it sooner.
And that's it! Once the recipient has received their gift certificate, they'll automatically receive their Sponsorship welcome pack followed by regular updates in the post.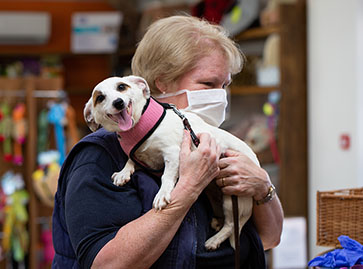 "Our animal centres across England and Wales are almost entirely funded by the public. With more than 800 cats and dogs staying in our 14 animal centres at any one time, Sponsorship couldn't be more important."

Susannah Walters
Manager, RSPCA Millbrook Animal Centre, Surrey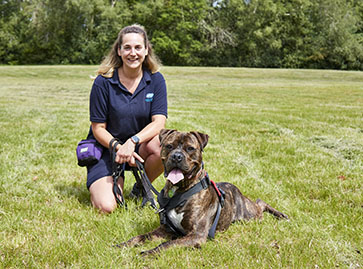 "It's thanks to our Sponsors I'm able to work closely with dogs traumatised by cruelty and neglect who need extra help. I'll devise a special training plan, unique to each dog, to grow their confidence and trust once more."

Hannah Hawkins
Behaviour and Welfare Advisor, RSPCA Ashley Heath Animal Centre, Dorset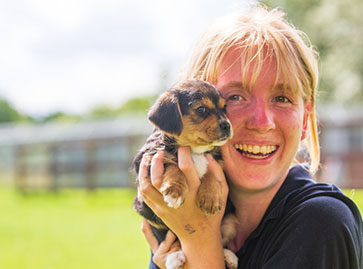 "Sponsoring our Dog Kennels gives animals the warmth, shelter and comfort they need. It means we can provide them with the vet care, food, grooming, playtime, love and attention they may never have had before. I love seeing them thrive and helping them find their new humans."

Chloe Baggott
Animal Care Assistant, RSPCA Leybourne Animal Centre, Kent
Frequently asked questions
How will this gift help?
Tasty, nutritious food, a comfortable place to rest, expert medical care - these are the essentials the many animals in our care can receive, often for the first time, thanks to Sponsorship. Your gift also contributes to the unique support each dog or cat may need to heal and find their forever home, such as behavioural training, one-to-one time with our animal carers, physiotherapy and more.
---
Does the gift recipient sponsor just one dog or cat?
When you gift an RSPCA Sponsorship, the recipient doesn't simply sponsor a dog or cat. They're sponsoring the Dog Kennels or Cat Pods in our animal centres across England and Wales. And that means all the animals who might stay in them. Sponsorship helps us offer animals the very best care and rehabilitation, for as long as it takes before they're ready to find forever homes.
---
What will they receive as a Sponsor?
One of the best things about becoming an RSPCA Sponsor is getting to know the dogs and cats in our centres. First, they'll receive a welcome letter and personalised gift certificate, letting them know about your kind gift. Then we'll send our welcome pack, introducing them to our very special animal centres and telling them everything they need to know about Sponsorship. They'll learn what expert care and rehabilitation their ongoing support will provide. And they'll meet some of the animals given a second chance at life, thanks to RSPCA Sponsors.
Throughout the year, they can enjoy regular updates and photos from staff and volunteers at our centres. They'll send heartwarming photos and stories of the animals recovering and learning to trust again, thanks to your gift. The Sponsor will gain a real insight into the work our animal carers do, so they'll know exactly how their support makes a difference to dogs and cats. All these updates are sent by post when you sign them up to become a Sponsor. But they can change their communication preferences at any time.
Please note, our Sponsorship product is only available as a gift to recipients aged 18+.
---
How often will they receive Sponsorship updates?
For the first six months we'll send letters and postcards with feelgood stories about the animals their Sponsorship has helped. After that we'll keep in touch with updates four times a year, so your gift recipient can see the continued impact of their support. The quarterly updates are sent in spring, summer, autumn and then at Christmas.
---
What do Dog Kennels and Cat Pods look like?
Each animal has a kennel or pod to themselves, unless they came to us as a pair in which case they may share (and puppies and kittens can stay with their mother and littermates). There's a warm indoor area, 1.5m by 1.5m for dogs or 1m by 1m for cats, with a cosy bed tucked away so they can hide if they want to. Dogs have their food and water in this area and there are acoustic kennel ceilings to help suppress the sound of other dogs, so they can relax more easily. Some kennels even have underfloor heating.
From the indoor area there's a hatch (dogs) or stairway (cats) down to their enclosed outdoor area, where cats will find their food and water, litter tray and a scratch post. This area is 3m long and allows them to stretch their legs, play with their toys, get some fresh air and interact with staff or potential new owners. Of course each dog also gets walks and plenty of time in our special off-lead exercise areas, where they can run, play and receive training and grooming. Rest assured your loved one will find out lots about all this in their welcome pack and regular updates.
---
Can I Sponsor both Dog Kennels and Cat Pods?
Absolutely! By choosing our Sponsor Both option, you can help even more animals get the life-changing care they need. Many generous Sponsors choose to support both our Dog Kennels and Cat Pods, giving our centres the means to care for even more animals during this crucial stage in their journey.
You can sign-up to support dogs and cats by clicking Sponsor Both before choosing your monthly Sponsorship amount.
---
Can they visit an RSPCA animal centre?
We love meeting our supporters and where possible our centres open their doors to the public. But during the pandemic they had to close to visitors and not all have the resources to fully open again.
Most now prefer visitors to make an appointment, so they can manage numbers and keep everyone safe. It's best to check in advance and you can find your gift recipient's nearest RSPCA animal centre for more information.
---
What if I want to give them the gift sooner?
If there's no time to wait for the post, don't worry. Sponsorship is the perfect last-minute gift, because you can print out your personalised gift certificate to give in person - or even email it to your recipient. Look out for the certificate on the confirmation page once you've signed up. There will also be a copy on your confirmation email.
---
How long does Sponsorship last?
One you've signed up, your monthly Sponsorship gift is ongoing. If you wish to stop your donations at any point, your recipient will no longer receive updates from us. But they can take over payments and keep sponsoring and receiving updates if they'd like to. All they need to do is call our Supporter Services team on 0300 123 0346 to make this switch.
---