Teenage membership
If you're an animal-lover aged between 12 and 17* who wants to help make a difference to animals, then the RSPCA's teenage membership is for you.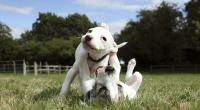 Animals can't speak up for themselves so they rely on people like you to speak up for them. Our teen members campaign, fundraise, debate, and support the animal welfare cause. Why not join in?

For £10 per year you can join this fantastic group of people and be kept up-to-date with the current issues as well as get support and advice on helping the RSPCA. So, what are you waiting for? Join now!

*If you are already an Animal Action Club member then you will be invited to become a teen member when you're 12.